For Builders
Alarm.com's interactive security offers the most advanced remote monitoring and control so you can keep track of everything that happens onsite, no matter where you are.
Security on Site
An Alarm.com system allows you to keep track of ALL activity at your job sites — not just entries and exits, but every door, gate, garage and window. Best of all, you can monitor and control everything — even arm and disarm the system — remotely through any web-connected computer or mobile device. You can also get text messages sent straight to your cell phone for notification of any system activity, or view daily reports at home from your computer. With Alarm.com, you can ensure that your sites are secured and running smoothly, even if you can't be there every day.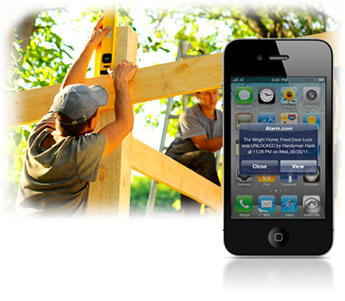 Secure any site, any time.
Alarm.com is completely wireless so you can secure and monitor your site without a phone line.
See what's happening onsite as it happens.
Receive real-time video or image alerts if sensitive areas are accessed, or just monitor daily activity with indoor and outdoorvideo monitoring & image capture.
Know your site is always secure.
Never wonder if your team forgot to arm the system when they left –set rules to automatically arm and disarm your system, or do itremotely from your phone or computer.
Manage visitor access.
Instead of being onsite to let visitors in, you can grant service professionals and visitors access by creating and managing multiple user access codes from your computer.
Gain new business intelligence.
Track which rooms or model homes get the most foot traffic
Be in control even when you can't be there.
Remotely program and manage your system from any web browser.
Differentiate Your Homes with Technology-ready Upgrades
Adding Alarm.com to your model home is not only the best way to secure it, but also a fantastic way to differentiate your homes with value-added technology. Homes equipped with Alarm.com are security-ready and offer buyers an easily customizable solution that can be expanded to include video monitoring, energy management and home automation.
Buyers seeking energy efficient homes will appreciate Alarm.com's energy management solution which allows users to automatically manage energy use more efficiently using Smart Schedules that map to their home's activity patterns. With remote control and intelligent automation of lights, locks and thermostats, energy management services are fully integrated with Alarm.com's interactive security services.
Get More from Your Security System
Expect more from your security system and get advanced safety, convenience and control. With endless ways to customize your Alarm.com system, you'll get a security solution tailored to meet your unique needs.